/Diversityequityinclusion
Diversity, Equity, and Inclusion
The Diversity, Equity and Inclusion (DEI) committee of Temple Sinai strives to educate as well as to promote the representation and participation of different groups of individuals, including people of different ages, races, marital status, ethnicities, abilities, genders, religions, cultures and sexual orientations in order to enhance a feeling of belonging.
Sisterhood Book Club,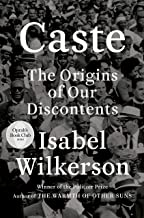 Diversity, Equity & Inclusion Committee,
Social Action and Lifelong Learning
invite the entire community to a
facilitator-led book discussion of
by Isabel Wilkerson
Winner of the Pulitzer Prize
Mark your calendar: Monday, October 18 at 7:30 pm
October 2021 Observances
LGBT History Month- a US observance begun in 1994 to recognize lesbian, gay, bisexual and transgender history and the history of the gay-rights movement. A marvelous read is Sarah Schulman's Let the Record Show; A Political History of ACT UP in New York 1987-1993.
National Disability Employment Awareness Month- Launched way back in 1945 as Congress declared the first week in October as "National Employ the Physically Handicapped Week." In 1998, it was extended to a month and renamed. The annual event draws attention to employment barriers that continue today. Recommending the documentary Crip Camp, a unique presentation of one group's experience at an upstate summer camp and their subsequent activism.
Global Diversity Awareness Month - To celebrate and increase awareness about the diversity of cultures and ethnicities and the positive impact diversity has on society.
Notes:
Articles of Interest
JUNE 4, 2021 ARON HIRT-MANHEIMER
Sun, October 17 2021
11 Cheshvan 5782
Temple Sinai COVID Information Hub
As we plan for a phased reopening of Temple Sinai and a careful return to in-person gatherings, we want to keep you up to date on developing plans. Please check this page often, as it will be updated frequently with additional information regarding Temple Sinai programs and services.
Sun, October 17 2021 11 Cheshvan 5782