K-7 Registration 2022-2023
Thank you for registering your child for Temple Sinai Religious School (K-7). Registration for the Rabbi Stuart Gershon Hebrew High School (8-12) will be open at a later date. Let's share a wonderful home/temple/school partnership that will engage the whole family!
We hope you and your children will experience the joys of friendship, love of learning, and an active, strong connection to our very special community. Our "door" is always open! Please contact us with any questions or suggestions about the program. We all look forward to an exciting and meaningful year!
L'Shalom—To Peace!
---
Rabbi Shira Gluck - Associate Rabbi and Director of Congregational Learning
908-273-4921 X115
---
Registration Instructions
The registration fee of $50 is paid upon enrollment. The tuition and food fee will be billed to your account.
Grade-level tuition is non-refundable after the first day of class in September, 2022.
Grade 4-7 families: This registration is for Sunday classes. You will be able to select your child's one-on-one weekly, virtual Hebrew session in a separate registration in August.
Temple Sinai is thrilled to continue our partnership with Hebrew Home Page for the 2022 – 2023 school year. As a result, tuition for grades 4 – 7 includes a $200 increase. This increase enables the temple to provide a total of 24 high quality, one-on-one Hebrew tutoring sessions for every 4th through 7th grader throughout the school year. The temple subsidizes the partnership with Hebrew Home Page, as tuition alone does not cover the full cost.
The first day of school is September 18.
For questions about K-7 school programs, contact Patti Kahn. For assistance with registration, contact Michal Levine, Temple Administrator (Michal@templesinainj.org; (908) 273-4921 X110).
---
8th-12th Grade Registration
Temple Sinai is excited to announce a new model for the Rabbi Gershon Teen Program for 8th-12th Graders. Next year's program will include engaging learning opportunities in and out of the building, more flexibility and choice, plus an immersive experience (a fun, educational, and community-building trip!) for each age cohort. More details and registration info will be available in June. Stay tuned!
Please note the following:
2022-2023 tuition/fees and membership dues must be current or prior confidential arrangements made with Audrey Napchen, Executive Director (Audrey@templesinainj.org; (908) 273-4921 ext.116) for your child to start school.
Temple Sinai has a confidential assistance program for qualifying families. Please contact Audrey Napchen, Executive Director, (Audrey@templesinainj.org; (908) 273-4921 ext.116) if you would like to receive financial assistance information.
When you complete and submit registration, you will have the option to select your payment preference: to pay the full amount, bill your account, or set up a payment plan.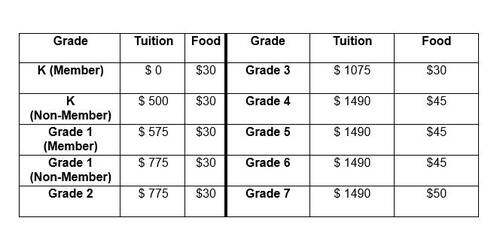 Next year's classes will take place as follows:

The K-2 Academy: Sundays, 9am-11am
Grade 3: Sundays, 9am-11am
Grades 4 & 5: 9am-11:15am (siblings in K-3 will be provided fun supervision until the 11:15 dismissal time.)
Grades 6 & 7: 10:45am-1:00pm
Sat, April 1 2023 10 Nisan 5783