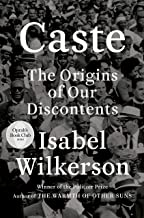 DATE: Monday, October 18 at 7:30 PM
by Isabel Wilkerson
Winner of the Pulitzer Prize
Join Sisterhood Book Club, Diversity, Equity & Inclusion Committee,
Social Action and Lifelong Learning as we present
Rev. Vernon Williams of Fountain Baptist Church and Claudia Cohen, Ph.D. of
the Unitarian Church in Summit who will
facilitate and guide our

ZOOM book discussion of

CASTE
In this brilliant book, Isabel Wilkerson gives us a masterful portrait of an unseen phenomenon in America as she explores, through an immersive, deeply researched narrative and stories about real people, how America today and throughout its history has been shaped by a hidden caste system, a rigid hierarchy of human rankings. Her writings link the caste systems of America, India, and Nazi Germany, examining caste systems across civilizations.
Something amazing happens when women come together in sisterhood, to share their lives, to create enriching programs, to celebrate, to respond to the call to help within the temple community and beyond.
We are delighted to be in the stages of re-visioning a sisterhood that reflects the passions of our Temple Sinai women. If you'd like to know more about our work this year, we'd love to talk with you! Please contact Helane Dollinger at Helane.dollinger@gmail.com, to connect you with our sisterhood.
Sat, September 25 2021
19 Tishrei 5782
Friday,
September 24, 2021
Happy Holy Hour
6:30 pm
Shabbat Evening Service
7:00 pm
Saturday,
September 25, 2021
Torah Study Via Zoom
8:45 am
B'nei Mitzvah of
Margot & Nate Stern
10:30 am
Diversity, Equity, and Inclusion
Temple Sinai welcomes the full participation of all who seek a Jewish community. We invite those from a diverse spectrum of Jewish life, including people of color, multi-faith and interfaith people and families, Jews by Choice, single parents, single people, those differently-
abled, and LGBTQ+ individuals and families.
We are proud of the diversity in our community.
Sat, September 25 2021 19 Tishrei 5782