Caste: Facilitated Book Discussion
Monday, October 18, 2021
•
12 Cheshvan 5782
7:30 PM - 9:00 PM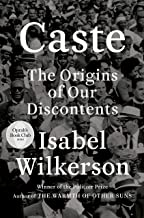 Engage in the Conversation
Join Rev. Vernon Williams of Fountain Baptist Church and Claudia Cohen, PhD of Beacon Unitarian Universalist Congregation, as we discuss:
CASTE, by Isabel Wilkerson
Albert Einstein ``became a passionate ally of the people consigned to the bottom. 'He hates race prejudice," W.E.B.DuBois wrote, 'because as a Jew he knows what it is."
CASTE is a remarkable book and there is much to discover.
Whether you've completed the book or not, please come.
Sisterhood Book Group, Diversity, Equity & Inclusion, Social Action
& Lifelong Learning Committees.
Share Print Save To My Calendar
Sun, October 17 2021
11 Cheshvan 5782
Friday,
October 15, 2021
Shabbat B'Yachad Service
6:00 PM
Saturday,
October 16, 2021
Torah Study
8:45 AM
Bat Mitzvah of
Margot Waxman
10:30 AM
Diversity, Equity, and Inclusion
Temple Sinai welcomes the full participation of all who seek a Jewish community. We invite those from a diverse spectrum of Jewish life, including people of color, multi-faith and interfaith people and families, Jews by Choice, single parents, single people, those differently-
abled, and LGBTQ+ individuals and families.
We are proud of the diversity in our community.
Sun, October 17 2021 11 Cheshvan 5782