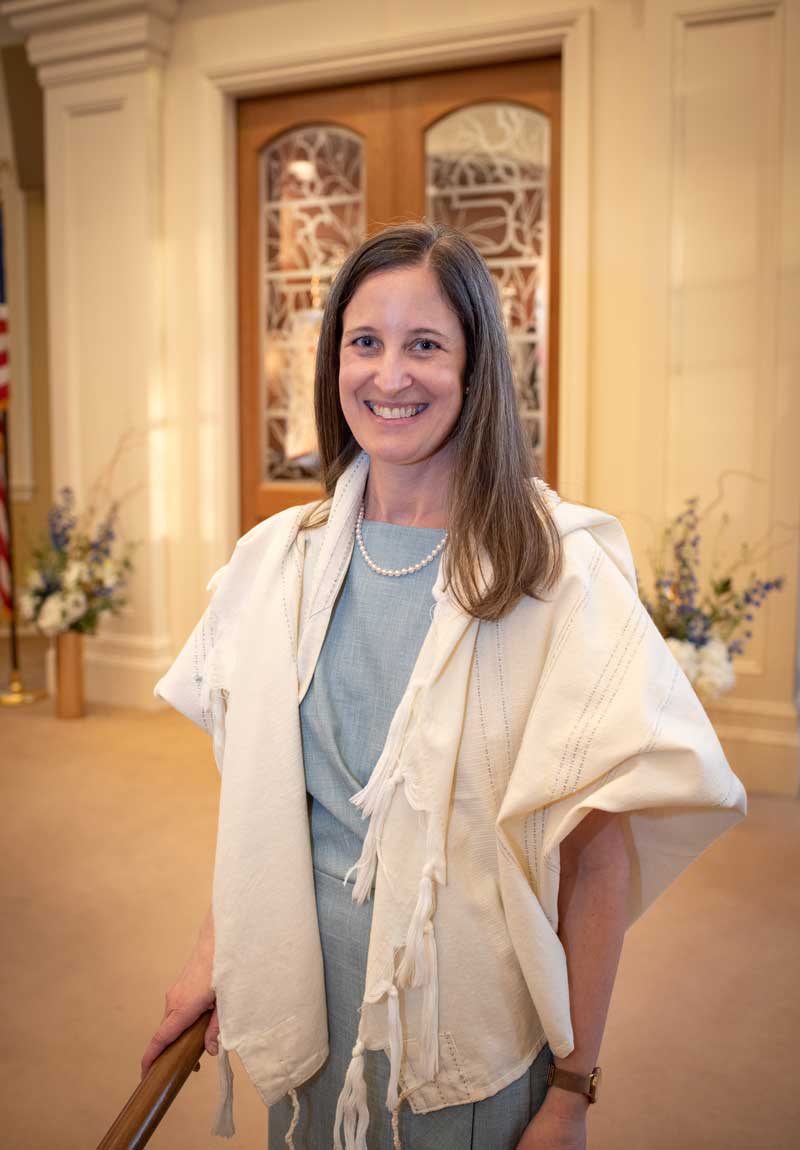 Rabbi Erin Glazer
Rabbi Erin R. Glazer is the Rabbi of Temple Sinai in Summit, New Jersey. She brings more than a decade of rabbinic and Jewish organizational leadership experience to this position, having served as a rabbi at Congregation B'nai Jeshurun in NYC and Temple Emanu-El in Westfield, NJ. In addition to these congregational positions, Rabbi Glazer has also worked for MAZON: A Jewish Response to Hunger, National Council of Jewish Women and the Reform Movement's Religious Action Center in Washington, D.C.
Rabbi Glazer received her B.A. from the University of Maryland at College Park and received Rabbinic Ordination and a Master of Arts in Hebrew Letters from the Hebrew Union College-Jewish Institute of Religion (NY). She studied at the Pardes Institute of Jewish Studies in Jerusalem, participated in the two-year Rabbinic Leadership Program of the Institute for Jewish Spirituality and was a LEAP Fellow, a program of CLAL and the Katz Center for Advanced Judaic Studies at the University of Pennsylvania.
Rabbi Glazer is married to Rabbi Joseph Skloot and they are the proud parents of Maya and Solomon.
Cantor Marina Shemesh
CantorShemesh@templesinainj.org
Cantor Marina Shemesh joined Temple Sinai in July 2012. She received her investiture as Hazzan and Master of Sacred Music from the Jewish Theological Seminary of America in May 2004. She previously served as cantor at Congregation Mevakshe Derekh in Scarsdale, NY, Congregation Beth Israel in Worcester, MA and Brotherhood Synagogue in NYC. Cantor Shemesh feels fortunate to have found her calling in the vast and beautiful world of Jewish music and loves to share this passion with congregants of all ages, connecting them to our rich spiritual tradition, and liturgical and cultural heritage.
Her work in opera has taken her to major roles with companies including New Israeli Opera, Canadian Opera Company, Vancouver Opera Company, and Israel Vocal Arts Institute in Tel Aviv. In addition to her opera work, Cantor Shemesh performed in concerts, recitals, and oratorio with major Israeli orchestras, such as the Rishon-le-Zion, Ashdod, Raanana, and Haifa Technion orchestras.
Cantor Shemesh has received many impressive musical awards and prizes from vocal competitions in Montreal, Bilbao, Athens, and Tel-Aviv. She has been the recipient of many scholarships and awards, such as: America Israel Cultural Foundation, Israel Vocal Arts Institute Foundation (IVAI), Jewish Foundation for Education of Women, and others. Marina taught vocal performance at Clark University in Worcester and currently she teaches voice at her voice studio in Livingston and at the H. L. Miller Cantorial School at JTS.
In addition to Jewish Theological Seminary, she holds a Master's degree in Music and Voice Performance from St. Petersburg State Conservatory and Rubin Academy of Music in Tel-Aviv, where she won first prize in the Academy's Vocal Competition.
Cantor Shemesh responsibilities as a Cantor of Temple Sinai include preparing our students for Bar/Bat Mitzvah, and leading services for Shabbat, the High Holy Days, and the Festivals. She also teaches Cantillation and prayers at the Religious school, Confirmation at the High School as well as leads Shabbat celebrations at the Early Childhood Education Program. She conducts Shir Libeinu Choir and the Temple Sinai Band. Cantor Shemesh directs the Purim Spiels productions and produces annual benefit concert in series "Cantor Shemesh and Friends". As a member of the clergy team, Cantor Shemesh attends to the pastoral and life cycle needs of our congregants.
Cantor Marina Shemesh is a member of Cantors Assembly and the American Conference of Cantors. She lives in Livingston, NJ with her husband and her two sons Daniel and Elijah.
Here are some musical selections Cantor Shemesh would like to share with you:
Avinu Malkeinu by Max Janowski
Rabbi Shira Gluck
Rabbigluck@templesinainj.org

Rabbi Shira Gluck is thrilled to join Temple Sinai as Associate Rabbi and Director of Congregational Learning! Rabbi Gluck comes to Summit from New York City, where she has served as Assistant Rabbi at Stephen Wise Free Synagogue, and as rabbinic intern at ARZA (Association of Reform Zionists of America), The New Jewish Home of Manhattan, Congregation Emanu-El of NYC, and Anshe Emeth Memorial Temple in New Brunswick, NJ.

Rabbi Gluck received her B.A. from Oberlin College, where she studied art history and Classics. She received her M.A. in Hebrew Literature and rabbinic ordination from Hebrew Union College-Jewish Institute of Religion in New York. As a student, Rabbi Gluck was an ARZA Clergy Fellow, a Leffell Israel Fellow, and a participant in the Shalom Hartman Institute's Rabbinic Students Seminar, iEngage Rabbinic Fellowship, and continues to participate in the Hartman Rabbinic Torah Seminar.

Born in Haifa, Israel, and raised in Montgomery Township, NJ, Rabbi Gluck is very happy to be returning to the beautiful Garden State!
Rabbi Stuart Gershon, D.D Emeritus
Rabbi Stuart W. Gershon retired after 25 years as the Rabbi of Temple Sinai. Rabbi Gershon was ordained by the Hebrew Union College-Jewish Institute of Religion (HUC-JIR) in 1989. Rabbi Gershon possesses two M.A. degrees, one in Jewish Education from The Jewish Theological Seminary of America and the other in Hebrew Literature from HUC-JIR. He received his B.A. in Judaic Studies from the University of Pennsylvania.
Rabbi Gershon is known for his warmth, caring, and sense of humor. He brings his own unique blend of spirituality and intellectuality to Shabbat and festival services and to Torah study.
At the 12th grade graduation from Temple Sinai High School in May, 2013, one graduating senior said this about Rabbi Gershon:
"Rabbi, you are wise yet approachable, silly yet responsible, funny yet respectful...You are a tzaddik, a righteous one. You are the most purely good person I have ever known, and your faith is clearly part of the reason why. That is why I kept coming back to services. That's why I kept attending Hebrew High School. Before I was even a Jew in my own right, I knew that if Reform Judaism could produce a man like you, then it was a religion worth believing in."
Rabbi Gershon was a founder and tri-chair of the Darfur Genocide Rescue Committee of Summit from 2007 to 2009. He also served as a founder and co-chair of the New Providence Diversity Committee from 2007 to 2010. Rabbi Gershon was awarded the "Keeper of the Dream" Award by the Martin Luther King Day of Service Committee in 2010. Rabbi Gershon is the author of Kol Nidrei: Its Origin, Development, and Significance.
Rabbi Gershon's Sermons from High Holy Days 5779 - September 2018
Rabbi Peter Kasdan, D.D Emeritus
RABBI PETER E. KASDAN was named Rabbi Emeritus when he retired in July 2001, after serving as Rabbi of Temple Emanu-El of West Essex, Livingston, New Jersey, for thirty years. Known, most widely, for his social justice work, he helped create and was the first president of both the Livingston Interfaith Clergy Association and the Livingston Interfaith Council, as well as the Founding President of NJRC AR (the New Jersey Religious Coalition for Abortion Rights). Taking the title "Rabbi-teacher" seriously, he relished the time he spent working with the B'nai Mitzvah students, as well as with his students in the Confirmation/Post-Confirmation Program. He also taught more than a dozen Adult B'nai Mitzvah classes, helping 187 Adults study in a two-year cycle and enabling them to reach that unique moment in their Jewish lives that, as children, for whatever the reason, they never had the chance to attain.
Since his retirement, Rabbi Kasdan has remained quite active in a variety of endeavors in which he remains passionate: in the search for social justice, continuing his life-long efforts on behalf of the migrant worker community, specifically his support of, and personal friendship with the late Cesar Chavez and the multi-generations of the Chavez-Rodriguez family; in the growth and achievement of our children through his support of NFTY, JFTY's Urban Mitzvah Corps and the URJ's Kutz Camp; in his bond with K'lal Yisraeyl, supportive of the welfare of the People and State of Israel, especially through the survival of the Ethiopian Jewish community now living in Israel. He served on the Commission of Social Action of Reform Judaism, on the board of ARZA / World Union, North American Board, as President (and now President Emeritus) of the Scholarship Fund for Ethiopian Jews, and as the Rabbinic Advisor of the Jewish Genetic Disease Consortium, the Canavan Foundation as chair of The Central Conference of American Rabbi's Taskforce on Jewish Genetic Disease. He was the recipient of the UAHC's Fund for Reform Judaism Distinguished Service Award, a NFTY Life Membership awarded in 1984 and, in 2007, he was awarded the Central Conference of American Rabbi's Rabbi Samuel Cook Award for Lifetime Service to Youth Work and, as he retired, Temple Emanu-El awarded him the Temple Emanu-El 2001 Shofar Award for his life-long work in the area of Social Justice and Tikkun Olam.
Rabbi Kasdan and his wife Sheila have lived in Longboat Key, Florida since 2002. There he continues his life-long service to both the Jewish and general community. He is Past-Chair of the Longboat Key Policeman's Pension Board and currently serves on the LBK Consolidated Pension Board and, because of Florida State requirements, is now a Certified Public Pension Trustee. He served as President of his condo association and currently serves on the Bioethics Committee of the Sarasota Memorial Hospital, as well as a member of its End Of Life Taskforce. He also serves as Chair of the Speakers Committee at his and Sheila's local congregation, Temple Beth Israel of Longboat Key.
Cantor Florence Friedman, Emerita
Cantor Friedman was proud to serve as Temple Sinai's Cantor from 1999-2012. Cantor Friedman has a passion for learning and has had a very active retirement including chaplaincy, piano and voice studies, teaching Jewish Mindfulness Meditation, reading avidly, studying with The Institute of Jewish Spirituality, traveling, bicycling and spending time with her husband Loren, 7 grandchildren, extended family and friends. She currently resides in Lambertville, New Jersey a picturesque town on the Delaware River.
Cantor Friedman currently serves part time as the Jewish Chaplain for Greenwood Hospice and volunteers at Robert Wood Johnson University Hospital in Hamilton, New Jersey. She leads Shabbat morning services monthly at Shir Ami in Newtown, Pa. Cantor Friedman studies piano at Westminster Conservatory and continues to work on new repertoire with her piano duet partner, Jolene Chou. They are currently preparing for an upcoming concert in Spring, 2020. She has served various congregations as Cantor for High Holy Days and last year had an interesting experience Hebrew Congregation of St. Thomas in the Virgin Islands. Cantor Friedman created Temple Sinai's Jewish Mindfulness Meditation Group, which still meets monthly, and continues to teach meditation at various synagogues near her home. In January 2019, she lived in Jerusalem and studied at Ulpan Or and has plans for a return trip in January 2020.
Prior to coming to Temple Sinai, she served as Cantor at Temple Emanu-El in Edison, New Jersey from 1986-1999. She was certified as an Invested Cantor by Hebrew Union College-Jewish Institute of Religion – The School of Sacred Music in 1998 and earned her master's degree in Education from Rutgers University in 1980. She is a member of the American Conference of Cantors and served as the Chairperson of the Retired Cantors' Network. Her continuous studies have included 2 units of CPE (Clinical Pastoral Education), both the Cantors' Cohort and Jewish Mindfulness Meditation Teacher Training from the Institute of Jewish Spirituality.
Cantor Friedman would love to hear from old and new congregants as well as previous students of Temple Sinai! Florenceanne18@gmail.com
Rabbi Ellen Lewis, Honorata
Rabbi Ellen Lewis came to Temple Sinai in the summer of 1985. At the time, Temple Sinai was the largest Reform congregation in the country to hire a woman rabbi for a solo pulpit position. Rabbi Lewis remained at Temple Sinai until 1993. She was named Rabbi Honorata in August 1997. After spending 19 years as the rabbi of the Jewish Center of Northwest Jersey in Washington, NJ, she has recently retired from congregational work to practice full-time as a psychotherapist, supervisor, pastoral counselor and consultant.
Ellen Lewis is a proud native of NJ. After graduating from Westfield High School in 1970, she attended Brown University and in 1974 was awarded a post-graduate Samuel T. Arnold Fellowship for a year's independent study on Women in Israel. After that year of study, she enrolled in Hebrew Union College-Jewish Institute of Religion and was ordained a rabbi in 1980, one of the first 20 women to be ordained by the Reform movement.
Ellen Lewis has enjoyed a bi-vocational career as both a rabbi and a psychotherapist. She spent 35 years serving synagogues in Dallas, Texas; Summit, NJ; and Washington, NJ (named Rabbi Emerita). She was a founder and co-chair of the Women's Rabbinic Network. She is an active member of the Central Conference of American Rabbis and currently serves on the Task Force on the Experience of Women in the Rabbinate. She is also a certified pastoral counselor and a member of the Association of Clinical Pastoral Education.
While serving as a congregational rabbi, Rabbi Lewis became increasingly interested in why people do what they do, leading her to train at the Center for Modern Psychoanalytic Studies and become a licensed modern psychoanalyst. While she works with people from all walks of life, she specializes in working with rabbis and cantors to develop the emotional resiliency and flexibility required for contemporary congregational and organizational work. She is in private practice in Bernardsville, NJ, and New York City.
Rabbi Lewis' writings have focused on the intersection of psychoanalytical thinking and Judaism with a concentration on the rabbinate and synagogue life. Her essay "Changing Your Past: Reflections on Forgiveness," appears in the new Mishkan HaNefesh: Machzor for the Days of Awe. She has contributed a chapter ("Funny, You Don't Look Like a Rabbi") to the recent CCAR publication The Sacred Calling: Four Decades of Women in the Rabbinate. She has also written in the arena of sexual abuse, including the unfortunately timely "Preventing Clergy Sexual Abuse" in Keeping Faith in Rabbis: A Community Conversation about Rabbinic Education.
Rabbi Morrison David Bial, zl, Emeritus
Born in New York in 1917, Morrison David Bial studied at Princeton Theological Seminary, served as a chaplain at Mitchell Field during World War II, and was ordained from the Jewish Institute of Religion in 1945. He spent over thirty years serving Temple Sinai in Summit, New Jersey, from 1953 until he became Rabbi Emeritus in 1985. From 1985–1995, Bial joined Temple Beth Shalom in Ocala, Florida, revitalizing its interfaith movement, and served as Rabbi Emeritus until his death in 2004. In 2000 he had his second Bar Mitzvah, officiated by Walter Zanger, a man whose own Bar Mitzvah he had officiated at 52 years earlier.
Bial spoke from pulpits in the United States as well as in Dublin, Glasgow, and London. He led a number of tours to Israel, and published thirteen books, including The Rabbi's Bible: Torah and The Rabbi's Bible: Prophets (began in 1966, co-authored with Solomon Simon), Liberal Judaism at Home: the Practices of Modern Reform Judaism (1971), and Your Jewish Child (1978). He and his late wife, Dorothy, had two children.
Rabbi Glazer's Welcome Video - July 2020
Mon, September 25 2023 10 Tishrei 5784